* 

Thurs,    June 2022 –

BBPlan Committee (virtual) meeting



–  Discuss the current situation with the Local Plan, and all BA developments.
–  Review the financial position of BBPlan
–  Discuss future actions of the BBPlan group
* Wed, 14th July 2022 –

BBPlan Meeting  &  AGM



–  Review current committee membership, call for new members,  Vote for members.
–  Review the financial position of BBPlan
–  Discuss future actions of the BBPlan group
A proposal for the development of 42 dwellings on the Land East of Rhee Spring (BA4) was made public in April 2021 via their Consultation website.  The consultation period has now closed and we await the results of the consultation.
*  Request for more people to join BBPlan



–  With future local developments planned, we would like to encourage more people within Baldock, Bygrave & Clothall to join the BBPlanning group – see the Join & Privacy page.  Alternatively email info@bbplan.co.uk to let us know if you are interested, or would like further information.
.
2022 – Herts County Council (HCC) – possible revised planning application
In January 2018, HCC produced a map of possible Baldock Developments (see Below).  It is understood that HCC may produce another revised Map of possible Baldock developments  in 2022 (depending on the Local Plan hearings and eventual acceptance).
Future Meetings
Details of future public meetings to be held during the compilation of the Neighbourhood Plan, will be listed on this page.
.
* 19 Jan '18 to 16 Mar '18 – Herts County Council (HCC) planning applications
This Consultation completed in 2018.  For more details see History page.
Below is the HCC Map of possible Baldock developments, as at January 2018.
–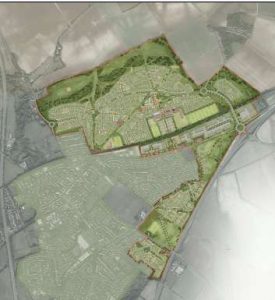 HCC Possible Baldock development
.

Walks around areas of concern / interest.
Further walks may be arranged to walk around other 'areas of concern' identified during the Consultation period.  Details of the first two walks can be found on the  History page.  The first walk was on Sat 8th July 2017, the second walk was on Sat 30th Sept.
Photos & Video of the walks are shown on the Photos & Video page.
Map from NHDC showing the boundary for the –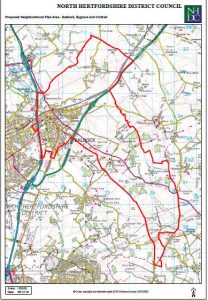 Baldock, Bygrave & Clothall Neighbourhood Planning area –
the map includes Luffenhall, which is part of Clothall Parish area.
.
Details about previous BBPlan Activities can be found on the  History page.