This page contains links to various maps of Baldock, Bygrave & Clothall.
Enclosed below is a link to the map from NHDC showing the boundary for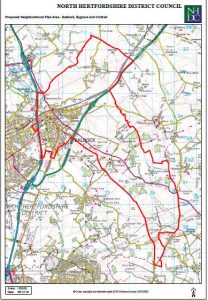 Baldock, Bygrave & Clothall Neighbourhood Planning area – the map includes Luffenhall, which is part of Clothall Parish area.
.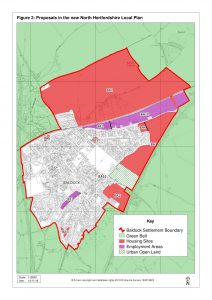 NHDC development sites proposed for Baldock in the 2019 Local Plan    –  Site map revised by NHDC in 2019
Detailed below are the BA development areas referenced on the map, and the NHDC estimated houses to be built per site
BA1   Land North of Baldock   (currently green belt)             2,800 homes
BA2   Land west of Clothall Road     (Clothall parish)               200 homes
BA3   Land south of Clothall Common (Clothall parish)         253 homes
BA4   Land east of Clothall Common (East of Rhee Springs)    42 homes
BA5   Land off Yeomanry Drive                                        25 homes
BA6   Land at Icknield Way                                                26 homes
          ( land cleared, retirement home being built )
BA7   Land to rear of Clare Crescent                                   20 homes
BA8 & BA9     Works, Station Road and adjoining Raban Court         50 homes
           ( These houses and flats have now been built )
BA10   Royston Road       New employment area – allocation
BA11   Deans Yard, South Road                                       20 homes
For more information regarding each area above, see detail on the SRB  website
https://www.saveruralbaldock.co.uk/?page_id=586
.
Selection of other maps and details of Baldock, Bygrave & Clothall
.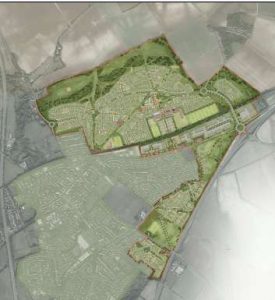 Hertfordshire County Council (HCC / WYG) 3rd illustrative vision of the Baldock developments, as at Jan 2018 .
.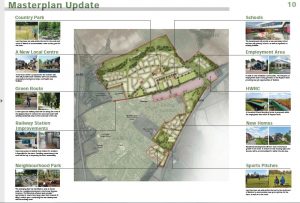 Baldock HCC earlier 2017 Masterplan boards @ 6-7-oct 2017
.
General details of Baldock, including Bygrave & Clothall – on Wikipedia –
wikipedia.org/wiki/Baldock
Map of Baldock and surrounding areas – Open Street map  –
openstreetmap.org/#map=13/51.9863/-0.2011
Baldock – Old map, and Village details circa 1870-72 –
visionofbritain.org.uk/place/30
Bygrave – Old map, and Village details circa 1870-72 –
visionofbritain.org.uk/place/2447
Clothall – Old map, and Village details circa 1870-72 –
visionofbritain.org.uk/place/1981