*  Tues,  28th Jan,  2020  – NHDC Cabinet meeting
We expect the draft plan to be discussed at a meeting of North Hertfordshire's Cabinet on Tues 28 January 2020, after which the District Council will publicise that the plan has been submitted, invite any further views and appoint a suitably qualified person to conduct an independent examination of the Neighbourhood Plan.  We will keep you updated as things move forward.
*  Mon,  3rd Feb,  2020  – BBPlan Committee meeting
–  Update following submission of the Neighbourhood Plan to NHDC, and the latest finance position.
The NHDC Local Plan Inspector – has asked NHDC for additional comments and Hearings

relating to Number of Houses and Green Belt  (see Inspectors letter –  ED166 LP Inspector letter to NHDC on 9 July 2019 .  This letter can be found in the NHDC – local-plan-examination-documents , with the NHDC response.
No dates have been set for the further NHDC hearings, however this will delay the publication of the final NHDC Local Plan.
Mid / late 2020 – Herts County Council (HCC) – possible revised planning application
In January 2018, HCC produced a map of possible Baldock Developments (see Below).  It is understood that HCC may produce another revised Map of possible Baldock developments, later in 2020 (depending on the Local Plan hearings and eventual acceptance).
.
Future Meetings
Details of future public meetings to be held during the compilation of the Neighbourhood Plan, will be listed on this page.
.
* 19 Jan '18 to 16 Mar '18 – Herts County Council (HCC) planning applications
This Consultation completed in 2018.  For more details see Activities-so-far page.
Below is the HCC Map of possible Baldock developments, as at January 2018.
–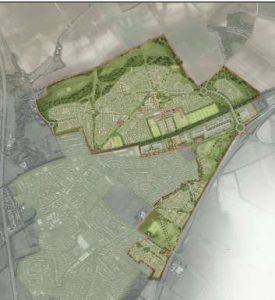 HCC Possible Baldock development
.

Walks around areas of concern / interest.
Further walks may be arranged to walk around other 'areas of concern' identified during the Consultation period.  Details of the first two walks can be found on the  Activities so far  page.
Map from NHDC showing the boundary for the –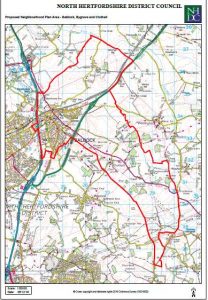 Baldock, Bygrave & Clothall Neighbourhood Planning area –
the map includes Luffenhall, which is part of Clothall Parish area.
.
Details about previous BBPlan Activities can be found on the  Activities so far  page.