*  Mon,  21st September,  2020  – BBPlan Committee (virtual) meeting
–  Update following the NHDC public Consultation on the Neighbourhood Plan, and the latest finance position.
.
The Local Plan Inspector – has asked NHDC for additional comments
relating to Number of Houses and Green Belt  (see Inspectors letter –  ED166 LP Inspector letter to NHDC on 9 July 2019 .  This letter can be found in the NHDC – local-plan-examination-documents , with the NHDC response.
The dates for the further NHDC Hearings were originally announced as being Mon 16th Mar to Thurs 26th Mar 2020.  They were to be held in the Icknield Centre, Letchworth;  the same venue as the previous hearings.  The announcement included Guidance Notes  and the Schedule for Further Matters, Issues and Questions .
Due to the Corona Virus outbreak, these meetings were posponed by the Inspector, Simon Berkeley on 13th March 2020.  See Postponement of Hearing Sessions March 2020 letter to NHDC.
On 16th Aug 20, the Inspector published revised dates ( see email ) for the Local Plan hearing sessions, to be held virtually in September and October 2020.
The email included the following documents –
– ED193 Guidance Notes Final 14.8.20
– ED194 Further MIQs 14.8.20
– ED195 Draft NHDC hearings programme & participants Sept_Oct 2020 V1 15..8
The proposed hearings will include –
Mon 28th Sept – Matter 21 – Objective Assessment of Housing Need.
Tue 29th Sept – Matter 22 – Five Year Housing Supply
Thur 1st Oct – Matter 24 – The proposed 'East of Luton' sites
Mon 12th Oct – Matter 23 – Green Belt Review and Site Selection Process.
Mon 19th Oct – Matter 25 – new land proposed for sites BK3, SI1, GA2, WY1, BA2, BA3 & BA4.
Tue 20th Oct – Matter 26 – Villages 'for Growth'
Wed 21st Oct – Matter 29 – recent changes to Use Classes Order
Thur 22nd Oct – Matter 28 – Modifications relating to biodiversity
The Inspectors hearings will delay the publication of the final NHDC Local Plan.
Meanwhile, we continued with the Draft Baldock, Bygrave & Clothall Neighbourhood Plan, and submitted it to NHDC for review.
.
NHDC have now consulted on the Neighbourhood Plan



The Draft Baldock, Bygrave & Clothall Neighbourhood Plan was accepted at the North Hertfordshire's Cabinet meeting on Tues 28th January 2020.  NHDC put the Plan on their website for Consultation,  which started on  Wed 12th Feb, and ended on Wed 25th March.
NHDC have now processed all representations received, and made them available to view on their website : https://north-herts.oc2.uk/readdoc/21
NHDC will now approach NPIERS for the appointment of a suitably qualified person to conduct an independent examination of the Neighbourhood Plan.
.
Late 2020 – Herts County Council (HCC) – possible revised planning application
In January 2018, HCC produced a map of possible Baldock Developments (see Below).  It is understood that HCC may produce another revised Map of possible Baldock developments, later in 2020 (depending on the Local Plan hearings and eventual acceptance).
.
Future Meetings
Details of future public meetings to be held during the compilation of the Neighbourhood Plan, will be listed on this page.
.
* 19 Jan '18 to 16 Mar '18 – Herts County Council (HCC) planning applications
This Consultation completed in 2018.  For more details see Activities-so-far page.
Below is the HCC Map of possible Baldock developments, as at January 2018.
–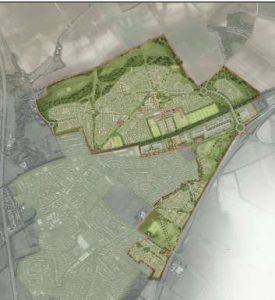 HCC Possible Baldock development
.

Walks around areas of concern / interest.
Further walks may be arranged to walk around other 'areas of concern' identified during the Consultation period.  Details of the first two walks can be found on the  Activities so far  page.
Map from NHDC showing the boundary for the –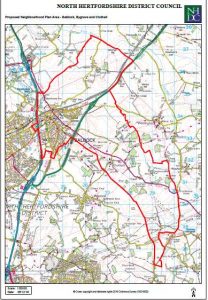 Baldock, Bygrave & Clothall Neighbourhood Planning area –
the map includes Luffenhall, which is part of Clothall Parish area.
.
Details about previous BBPlan Activities can be found on the  Activities so far  page.