There is an

NHDC

public consultation,  open until March 4th,  for you to comment on the recent modifications to the Local Plan.
The 2017 NHDC Local Plan was reviewed by the Local Plan Inspector during 2018 and modifications made by NHDC.  The public are encouraged to review and comment on the  Modified Local Plan  on the NHDC website, before the final Local Plan is produced later in 2019.
More details of how to find the modified Local Plan details, and how to submit your comments are available below.
A Poster regarding this consultation, is available for downloading, printing, and placing in an appropriate place   – Jan 2019 consultation poster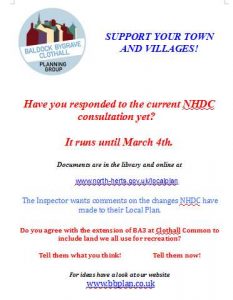 Also available is a map showing the original BA3 land selected, a second map showing the land selected in the modified Local Plan, and a photo of the BA3 open land.
The consultation is inviting comments on the modifications to the Local Plan, which have been drafted following the 2018 examination of the plan by the Inspector.
The schedule of Main Modifications, is available to view:
We have concerns about a specific change that relates to the area labelled as BA3. This now designates the whole area of open space between Clothall Common and the Royston Road roundabout as housing land.  NHDC has already proposed almost 300 homes next to Clothall Common. Allocating this extra land could mean building homes, we believe,  in a completely unsuitable place, losing some of the existing open space, which is well used by many people from Baldock and other areas, for walking, cycling and general recreation.
It would be helpful if as many people as possible submitted their comments regarding this modification, and spread the word to encourage others to write in as well.
You have until March 4th  to inform NHDC of your comments either
To help, we've suggested some text that you may find useful, including the numbers of the 'main modifications' that you need to comment on:
I object to main modifications 207, 208 and 409 (changes to allocations BA3 and BA4, and supporting text) for these reasons:
The changes are not effective, as they do not provide clear guidance on the appropriate extent of development in this part of Baldock.
The changes conflict with national planning policy because they could allow:
– a much-used area of open space to be lost or eroded, without replacement provision (and this open space which will be needed more than ever with the housing proposed in the local plan)
– building on potentially unstable land, as this area is formed from rubble excavated during the building of the Baldock by-pass
– development on rising ground that would be of poor design, especially in relation to its surroundings
It is not justified, as showing this entire area as housing is unnecessary to allow the housing and related infrastructure proposed in the submission local plan to go ahead.
The 'white land' that was left unallocated in the submission Local Plan should instead be designated as 'urban open land', which would safeguard its primary role as open space.
 As you may know, we are preparing a neighbourhood plan for Baldock with help from the community, to try to improve whatever development does take place. This will include protecting this area of open space. We'll be asking people's views on a draft in the spring. Do look out for it – it will be publicised through On Our Doorstep and local papers, and on this web site.
.
BBPlan Neighbourhood Planning documents will take into account any relevant changes made to the Local Plan.
Future Meetings
Details of future public meetings to be held during the compilation of the Neighbourhood Plan, will be listed on this page.
Tue 5th Mar 2019 – BBPlan Committee meeting
Agenda
–  Preparation of Eight Consultation boards, to be used for a BBPlan presentation at the Community Centre, during the proposed Neighbourhood Plan Consultation in April / May 2019.
–  the Consultation boards to be used on a BBPlan stall at the Baldock fair day, on Sat 18th May, to provide the public with more details of the proposed Neighbourhood Plan.
* 19 Jan '18 to 16 Mar '18 – Herts County Council (HCC) planning applications
This Consultation has now completed.  For more details see Activities-so-far page.    HCC Map of possible Baldock developments, as at January 2018.
–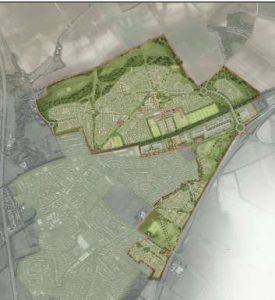 HCC Possible Baldock development
.

Walks around areas of concern / interest.
Further walks may be arranged to walk around other 'areas of concern' identified during the Consultation period.  Details of the first two walks can be found on the  Activities so far  page.
Map from NHDC showing the boundary for the –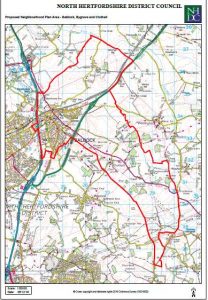 Baldock, Bygrave & Clothall Neighbourhood Planning area –
the map includes Luffenhall, which is part of Clothall Parish area.
.
Details about previous BBPlan Activities can be found on the  Activities so far  page.