Neighbourhood Plan approved by a referendum vote  on Thur  6th May 2021
6th May 2021  –  88% (3101 votes)  of Referendum respondents voted in favour of NHDC adopting the Plan. It will come into force as soon as NHDC formally adopt it.
The  Jan 2021 version of the Neighbourhood Plan   was approved by NHDC as ready for a referendum vote in Jan 2021.  The referendum vote took place  on Thurs 6 May 2021, when 88% (3101) residents voted in favour of NHDC adopting the Plan.
This was a really vital last step, as without a vote in favour of the Neighbourhood Plan, we would lose all of the safeguards which it puts in place to ensure that any new building is well designed and has the least impact possible on Baldock, Bygrave and Clothall.
The referendum took place alongside the local NHDC council elections, and was run by North Herts, so it was important to make sure that residents were registered to vote, and also register for a postal ballot if that was preferred.
This referendum was advertised locally as widely as possible with posters displayed around the town, adverts in local magazines, communication with local schools and social media. Residents were encouraged to download copies of the NP Referendum Vote Poster and the NP Support Advert Leaflet  to display or distribute through other channels.  Printed copies of the material were available from the committee, by emailing the address info@bbplan.co.uk .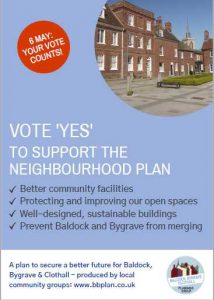 NP Referendum Vote Poster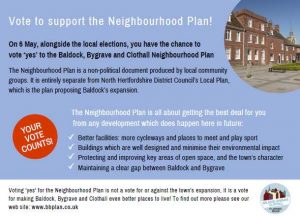 NP Support Advert Leaflet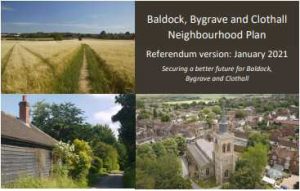 Jan 2021 version of the Neighbourhood Plan
.

We now have our first example of how the Neighbourhood Plan can help shape future development in the area. A proposal by  Chalkdene Developments LLP  for the development of 42 dwellings on the Land East of Rhee Spring (BA4) has been made public (see their Consultation website).  As the Neighbourhood Plan has been approved for referendum by NHDC, it has to be considered during the planning process.
More details of this development are available on the new  Planning  page
.
We have got to this stage following an enormous amount of work by many people in the local community, and most recently following a vote by NHDC's Cabinet (on Jan 26th 2021 – see NHDC YouTube website) which confirmed that the Neighbourhood Plan was suitable to be put to a referendum.  NHDC agreed with us that some of the recommendations of an independent examiner, who looked at the plan last summer, were inappropriate, and so these have not been included in the Neighbourhood Plan.
A very small number of changes have been made to the  Jan 2021 version of the Neighbourhood Plan   following the examiner's report, but he endorsed the vast majority of the plan, including the importance of keeping a gap between Baldock and Bygrave, requirements for improved facilities and for well designed and sustainable development.
.
Photos and Video page –
Contains photos and aerial videos of the proposed housing Sites BA1, BA2, BA3 & BA4.
.
NHDC Cabinet voted to accept the revised  Neighbourhood Plan

on 26th Jan 2021 (Agenda Item 9)
On 26th Jan 2021, NHDC Cabinet voted unanimously to accept the revised  Jan 2021 version of the Neighbourhood Plan , with the departures from the examiner's recommendations included.  This allowed the Plan to proceed to a NHDC referendum / vote across Baldock, Bygrave & Clothall,   on May 6th 2021, alongside the May Local Elections.
The vote was taken at the NHDC Cabinet meeting on January 26th 2021.
Report for the meeting:  Agenda Document for Cabinet, 26/01/2021 19:30
See Video of the NHDC Cabinet meeting on the NHDC YouTube website.
.
Baldock's Urban Extension Programme
We are aware that Herts County Council (HCC) have reported that they are planning to appoint a master developer shortly.  This is to progress their plans for the new developments around Baldock with the expectation of submitting a new planning application, for the whole of Baldock, after the Local Plan hearings conclude.  In the meantime, focus will be on the land marked as B4 in the Local Plan.  As this land is not part of the Green Belt it is not subject to Local Plan approval and timetable.
.
Baldock, Bygrave & Clothall Planning Group  –  Background



This group (BBPlan) was created to enable residents, businesses and community groups in Baldock, Bygrave and Clothall to influence the conservation, enhancement and future development of the area, including proposals that come forward through the District Council's Local Plan.
The Neighbourhood plan does not seek to duplicate work already included in the Local Plan. It focuses on specific interests of the local community that have been identified through our events and last year's community survey. If successful at a referendum, the plan will be used by NHDC alongside the Local Plan to manage development in the area, and provide a basis for wider actions to enhance Baldock, Bygrave & Clothall.
Why a Neighbourhood Plan is needed
Baldock, Bygrave & Clothall share a lot of history and form a thriving community. Baldock has excellent schools, a successful High Street and a strong community spirit. Since the building of the bypass a lot of work has been done to enhance the centre of the town. With the ever increasing pressure to find new sites for housing, North Hertfordshire District Council has proposed the development of land around Baldock that has previously been considered unsuitable (some of which straddles the boundaries between Baldock, Bygrave & Clothall).
Whatever happens with this, it is important that any sites that are allocated for development are planned in the best way possible, that the impacts are managed and that every opportunity is taken to maximise any benefits that can be secured for the town and parish. The local community are well placed to understand those issues and develop a new vision for Baldock, Bygrave & Clothall that addresses local concerns.
So what is a neighbourhood plan?
In summary it provides a vision and policies for an area, produced and endorsed by local people, and which – once finalised – has equal weight to the District Council's Local Plan as a framework for considering future development. It provides an opportunity to set out what is important about the area, how it might grow and improve, and specific policies that planning applications need to be assessed against (e.g. on design, green space, provision for pedestrians and cyclists, parking, etc). There are some limits on what it can do. It cannot override the 'strategic' policies in the District Council's local plan (such as those on the overall scale of growth), but it can nevertheless be an important means of influencing the final outcome.
The Group needs as many members and support as it can possibly have. We urge all Bygrave, Baldock and  Clothall Residents to get behind this initiative.  For more details, please contact info@bbplan.co.uk

The current committee is made up of:-
Rev'd Andrew Holford             Chair
Rob Hemmings                          Treasurer
Philip Hills                                  Bygrave Parish Council Chair
Helen Howard                           Clothall (with Luffenhall) Parish
Stephen Proops                         Technical Communication Manager
Albert Sillwood                          Secretary
Adrienne Waterfield                 Project Manager
Christine Watson                      Community Liaison Coordinator
All members above stood for election in November 2019 and were re-elected.  However in order to keep the group going we would very much welcome new volunteers.  Please email  info@bbplan.co.uk  to let us know if you are interested, or would like further information.
Constitution of the Group –
set out in the pdf document – BBPlan Constitution
.
A few of the other sources of information about Baldock:-